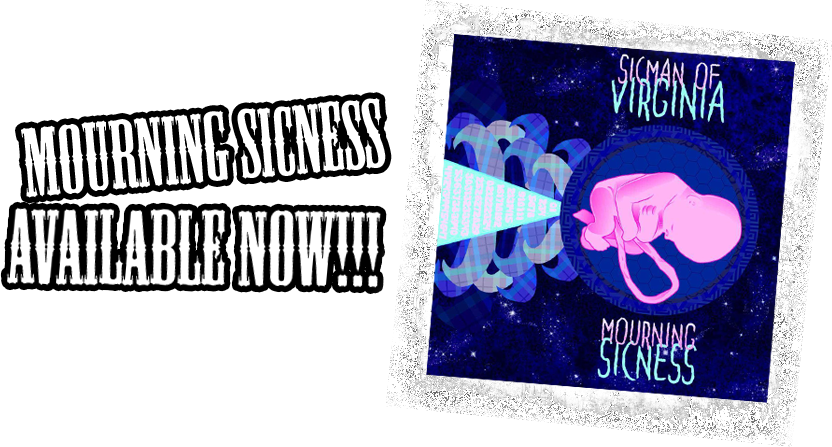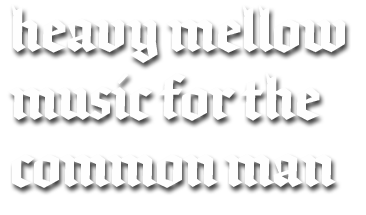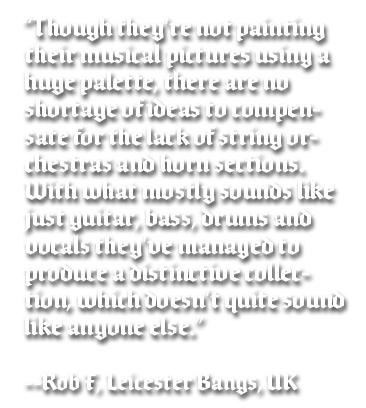 WHO WE BE:
"SICMaN is the punk rock version of the Grateful Dead" --J. Slutman, GWAR / ManIsDoomed

A genre bending rock band from Virginia Beach, VA. The name is weird, the sound is weirder. Heavy mellow music for the common man. With their ability to improvise stretched out jams and mix it up with heavier rock tunes or spaced out folk, they keep the party going all night.

Born and raised in Virginia Beach, Joe Welch and Matt Holloman have been writing, playing, and recording music together since childhood. With the addition of bass player and long time friend, Scott Griffin, SICMAN has been performing throughout the Mid-Atlantic region. The band just finished their fourth album, Mourning Sicness, due May 20, 2014 featuring an appearance by Dave Dreiwitz (of WEEN). In the last three years they have received nominations in numerous categories for VEER magazines local music awards including Album of The Year for their 2012 release titled Stale As It Ever Was which also had a track featured on the RELIX Magazine CD compilation in 2012. The band performed two nights at Poor Farm Fest III (WVA) with Devon Allman, Cyril Neville, and Tom Constanten of The Grateful Dead. They have also shared the stage with Instant Death (w/ 4/5 of WEEN), The Whigs, and Company of Thieves, among others.

With their musical roots ranging from blues to prog-rock, the band produces a surprisingly smooth mixture of progressive Post-punk/Psyche-folk/Rock tunes.
VIDEO:
SHOWS

"SICMaN Of Virginia - Stale As It Ever Was (Smelt Records)
SICMaN of Virginia is a three man rock band from south eastern Virginia. They've been around in one variation or another since 2002, though they were pretty much studio-bound for the first seven years of their existence, not breaking cover until 2009 for dates with several high profile indie bands, including The Whigs and Company Of Thieves. "Stale As It Ever Was" is their third album.
Though they're not painting their musical pictures using a huge palette, there are no shortage of ideas to compensate for the lack of string orchestras and horn sections. With what mostly sounds like just guitar, bass, drums and vocals they've managed to produce a distinctive collection, which doesn't quite sound like anyone else. Sure, there are influences at play, a little Sebadoh or Pavement here, some Frank Black there, but nothing that presents one of those unfortunate 'Eureka!' moments.
At just over half an hour, "Stale As It Ever Was" doesn't get stale at all. From the short a capella intro to the final track, "Don't Call" where an Everly Brothers acoustic guitar comes into contact with a song that name checks Sid and Nancy, there's always another musical surprise waiting. Inspired writing is ever-present and standout tracks soon become the norm. "Time" is lo-fi progressive, with a multitude of parts and recurring sections. Ambitious and fearless, but concise at less than four minutes. "Driving Miss Crazy" must get a mention for having the best title, but its Be Bop Deluxe inspired chords, and English glammy-style vocal keeps the repeat button busy. "Sushi" begins with a little electronica, something that sounds distinctly analogue, though guitars are soon added to the mix, and the resulting chaos is a genuine highlight - amongst many.
Rob F. -- Leicester Bang Magazine, UK"
SICMaN IN THE PRESS:

I'll be honest, when I saw this band's name I was really worried they'd be some scremo band comprised of angsty teens out of NOVA. Growing up there, this would not have been surprising at all. Well, I was surprised, because SICMAN of Virginia is not an angsty scremo band, they are a really awesome new jam rock band.
I don't know if it's possible, but if you can, try imagining the musical style of Tenacious D (not their lyrics) and Queens of the Stone Age. What you get is a lovely mix of heavy, ambient, and acoustic tunes all at once; a sort of heavy folk rock. I didn't think it was possible either, but SICMAN of Virginia have proven me wrong.
SICMAN of Virginia have three albums out: "A SICMAN's Guide to Illness..." (2003), "Sweatpants and Other Unnecessary Nonsense" (2011), and "Stale as it Ever Was" (2012). These guys are pretty awesome, so check out "Don't Call" and see for yourself.